DU FÉMININ AU MASCULIN, DU SALON À LA RUE, FROM THE NEW LOOK TO NEW WAVE. UN COLLAGE D'INFLUENCES ET ICONOGRAPHIES POP PREND FORME(S) AU CŒUR DE CETTE LIGNE DIOR ÉTÉ 2024 IMAGINÉE PAR KIM JONES, AU CROISEMENT DE LA TRADITION ET DE LA SUBVERSION.
PENSÉE TEL UN HOMMAGE PLURIEL AU STYLE DIOR, AU GRÉ DES ÉPOQUES ET DES DIRECTEURS ARTISTIQUES DE LA MAISON, LA COLLECTION CONVOQUE TOUT À LA FOIS LES SILHOUETTES D'YVES SAINT LAURENT, DE GIANFRANCO FERRÉ ET MARC BOHAN, RÉINTERPRÉTÉES, MÉTAMORPHOSÉES, LE TOUT INFUSÉ D'UN SENTIMENT DE MODERNITÉ ET DE PRATICITÉ, VIF ET LUDIQUE.
LES ARCHÉTYPES DE LA MODE MASCULINE – TELS QUE LE BLOUSON DE FORME HARRINGTON, LE POLO, LE COL ROND ET LE CARDIGAN – ÉVOLUENT, DE L'ORDINAIRE À L'EXTRAORDINAIRE, GRÂCE À DES SAVOIR-FAIRE ET DES CODES SYMBOLIQUES DE DIOR QUI TRAVERSENT LE TEMPS, À L'INSTAR DES TWEEDS, DES BRODERIES ET DU CANNAGE.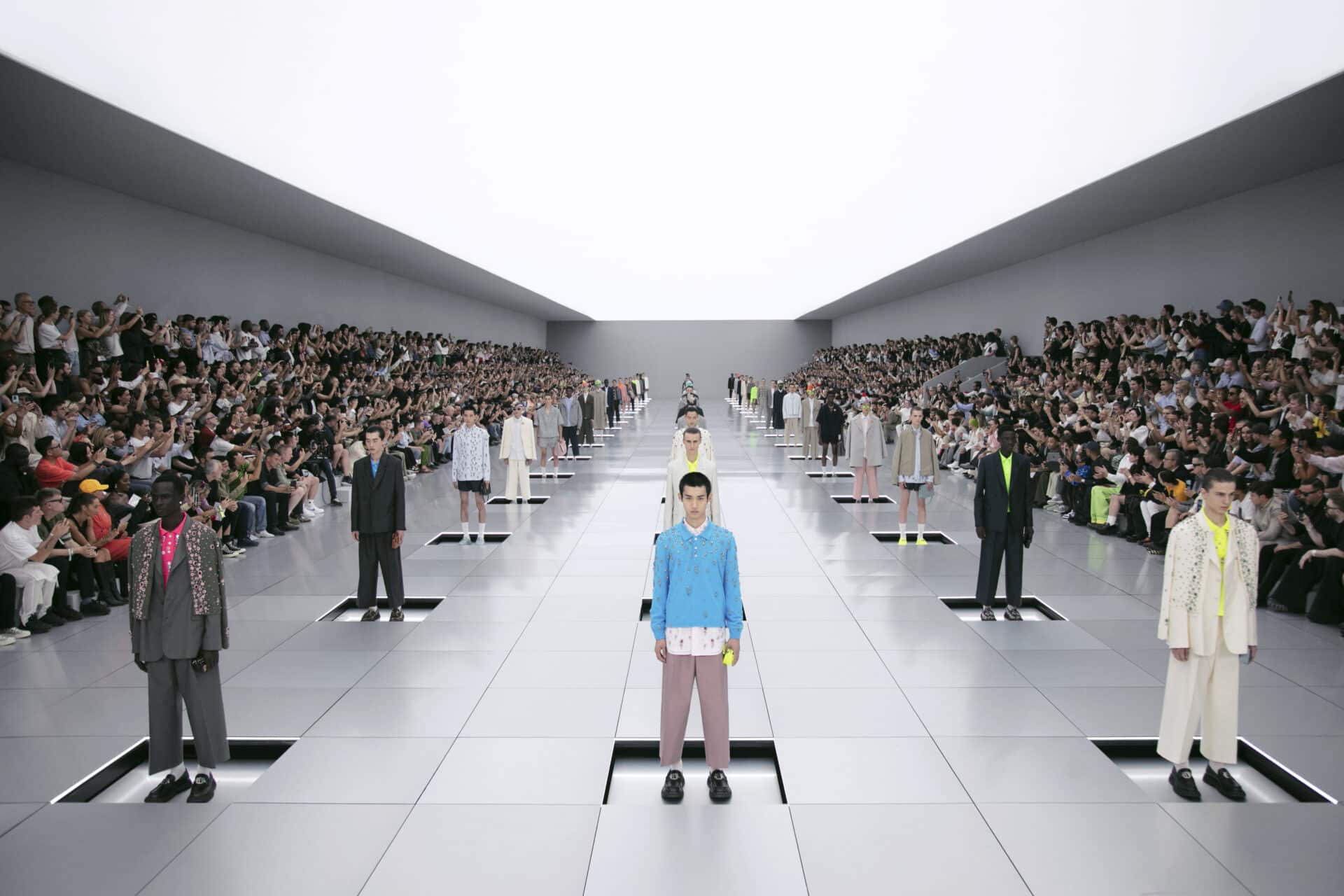 PONCTUANT LES LOOKS, LES SACS SE RÉVÈLENT DANS UNE MULTIPLICITÉ DE MATIÈRES ET DE NUANCES, CONJUGUANT LE SOBRE À L'EXTRAVAGANT. UN DIALOGUE PASSIONNÉ ENTRE HÉRITAGE ET RÉINVENTION(S).