Bien plus qu'une collection de Haute Joaillerie, Bulgari Eden, The Garden of Wonders est une célébration des plus précieuses matières de la nature, une ode à la beauté féminine et à la volupté.
Un collier aux splendeurs majestueuses orné de 11 émeraudes de Colombie, l'Emerald Glory est certainement l'expression la plus raffinée du savoir-faire unique de Bulgari en matière de pierres précieuses.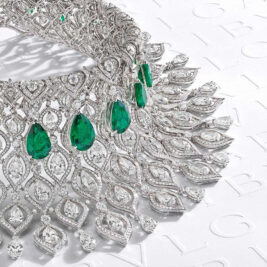 Cette création de Haute Joaillerie résulte d'un extraordinaire savoir-faire. Sa souplesse évoque celle d'un tissu soyeux et sinueux permettant d'oublier qu'elle est composée de métaux et de pierres précieuses.
Ce seul chef-d'œuvre présente trois façons de le porter : clin d'œil au savoir-faire de Bulgari en matière de pièces de Haute Joaillerie transformables, les émeraudes peuvent être détachées pour être portées comme un collier ou comme une somptueuse tiare.
Un rêve qui devient réalité.